Latest Fun News

Year-Round Fun & Exercise at Suwilaawks
Even when it the weather outside is frightful, as it often is during the unpredictable winter months in Northwestern British Columbia, the kid's at Suwilaawks Community School now get plenty of indoor exercise with a little help from Atomic Playgrounds. 
The new Indoor Playground was one of the School District's healthy living initiatives. But don't tell the kids, they think it was just for fun.
The Only Law of the Land is to Have Fun
The folks at the new Connie Wold Center in Watford City, North Dakota asked Atomic Playgrounds to build a unique and intimate Play Space for their new Health & Wellness facility.
So Atomic created Amy's Wonderland, a magical world of whimsy where kids can play, laugh and dream.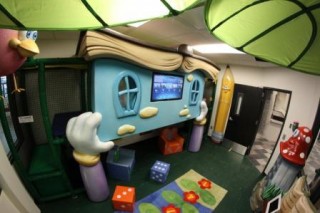 Amy's Wonderland was driven by volunteers and funded by donations as a memorial to a special member of the Watford City community. This made the project near-and-dear to Atomic Playgrounds who as a company have a core value of Community Service and Outreach. For further details visit Atomic Playgrounds – Creative Wishes.
Tumbler Ridge's New Rec Center Playground a Big Hit
Atomic's winning combination of design, quality and value won the open bid to provide a new Indoor Playground for the mining community of Tumbler Ridge, British Columbia.
But the big winners are the kids who are enjoying the unique, woodsy-themed Playground and Toddler Zone all year long– snow, rain or shine.
The Smiles Just Got Bigger At Smile Town
When kids are "begging" to go to the dentist you know you've got something special. The new Smile Town Pediatric Dentistry in Cambridge, Ontario features a one-of-a-kind, three-level, western themed Atomic playground with Interactive Game Floor.
Getting kids to the dentist in Cambridge is now easy… the hard part is getting them to leave.
Hippos, Tigers and Crocodiles… Oh My!
Little explorers looking for adventure are flocking to Lebanon, Ohio for the jungle experience at Jump Stop Safari.
With an eye-popping, 4-level, jungle themed playground, an Atomic Interactive Game Floor and a custom Ball Shooter Arena, thrills never stop at Jump Stop.