Fun Things We Are Doing...

A Gym With a Jungle Gym at the Renert School
Take a 4 level playground that wouldn't be out of place in a large amusement centre, drop it smack-dab into the gym at a private school, and what do you get? A whole lot of fun and a bunch of students who can't wait to get to school every morning. It's just one part of the innovative learning experience at The Renert School in Calgary, Alberta.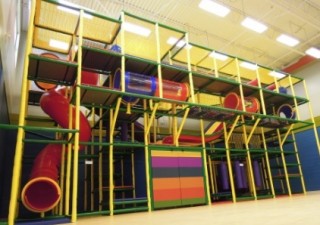 The Renert School is dedicated to identifying and nurturing student's interests and passions.
Atomic Playgrounds is also very dedicated– to finding the best way to have the most fun for the longest time.
Atomic Helps Toyota Keeps The Kids Busy
While Mom & Dad are kicking tires their kids are burning off  steam in the new Toddler Zone at Country Hills Toyota Scion (Calgary)– Canada's 2nd largest Toyota dealership.
By all accounts the playground is a huge hit with the kids, their parents and especially the sales staff. Best of all, the little ones are already asleep by the time their parents drive away in their brand new Toyota.
Bringing the Outdoors Indoors at The Treehouse
What do you do when you need to fill 10,000 square feet of indoor space with outdoor inspired fun? You call the play experts at Atomic Playgrounds of course.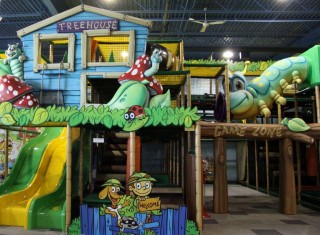 That's what the Treehouse Indoor Playground and Cafe did and ended up with wall-to-wall, treehouse and backyard bugs themed excitement. With a large Playground, Ball Blaster Zone, Interactive Game Floor, Game Zone, Toddler Zone and a custom Treeball event, there's something for everyone at The Treehouse.
Year-Round Fun & Exercise at Suwilaawks
Even when it the weather outside is frightful, as it often is during the unpredictable winter months in Northwestern British Columbia, the kid's at Suwilaawks Community School now get plenty of indoor exercise with a little help from Atomic Playgrounds. 
The new Indoor Playground was one of the School District's healthy living initiatives. But don't tell the kids, they think it was just for fun.
The Only Law of the Land is to Have Fun
The folks at the new Connie Wold Center in Watford City, North Dakota asked Atomic Playgrounds to build a unique and intimate Play Space for their new Health & Wellness facility.
So Atomic created Amy's Wonderland, a magical world of whimsy where kids can play, laugh and dream.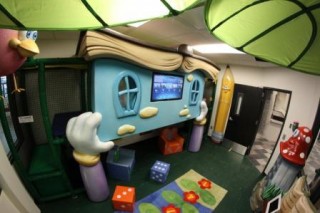 Amy's Wonderland was driven by volunteers and funded by donations as a memorial to a special member of the Watford City community. This made the project near-and-dear to Atomic Playgrounds who as a company have a core value of Community Service and Outreach. For further details visit Atomic Playgrounds – Creative Wishes.
Tumbler Ridge's New Rec Center Playground a Big Hit
Atomic's winning combination of design, quality and value won the open bid to provide a new Indoor Playground for the mining community of Tumbler Ridge, British Columbia.
But the big winners are the kids who are enjoying the unique, woodsy-themed Playground and Toddler Zone all year long– snow, rain or shine.
The Smiles Just Got Bigger At Smile Town
When kids are "begging" to go to the dentist you know you've got something special. The new Smile Town Pediatric Dentistry in Cambridge, Ontario features a one-of-a-kind, three-level, western themed Atomic playground with Interactive Game Floor.
Getting kids to the dentist in Cambridge is now easy… the hard part is getting them to leave.
Hippos, Tigers and Crocodiles… Oh My!
Little explorers looking for adventure are flocking to Lebanon, Ohio for the jungle experience at Jump Stop Safari.
With an eye-popping, 4-level, jungle themed playground, an Atomic Interactive Game Floor and a custom Ball Shooter Arena, thrills never stop at Jump Stop.
The YMCA Gets A New And "Improved" Indoor Playground
When the Madison Area YMCA needed an upgraded soft indoor playground to replace one previously installed by a competitor, who got the call—Atomic Playgrounds.
The Y's new custom designed indoor playground provides some great play solutions for a unique space. It's already a big hit with the gang at "Kids Central" and will be for years to come.
Atomic Celebrates 100 Years With The Calgary Stampede
Atomic Playgrounds was on hand once again this year to help the historic Calgary Stampede celebrate 100 successful years of western hospitality.
In addition to outfitting the Stampede's Buckaroos kid's play area for 5th consecutive year, Atomic brought even more fun to the "Greatest Outdoor Show on Earth" with its newest event, the very popular Interactive Game Floor. By all accounts, the interactive game floor's combination of affordable technology and physical fun was a big hit with the little Buckaroos. Congratulations Calgary Stampede!